How to get to the ranch (Example path from Austria)
Good way is border crossing Kittsee (attention, when ju cross the border, you need vignette), motorway D1 (E58) direction Bratislava, Trnava, Nitra. Through Bratislava direction on Nitra.
After rest stop Zeleneč turn right to direction Nitra, road R1. Then turn right on road 507 direction Galanta. Ranch is after village Nebojsa before Galanta on the right side, you can see small lake from the road.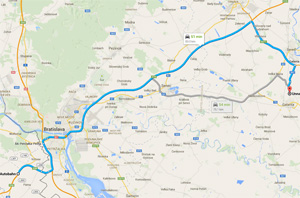 GPS: 48°12'30.7"N 17°43'48.3"E (48.208528 N, 17.730083 E)